Canyons and Chemistry
Kissing under a waterfall is something to be added to any and all bucket lists.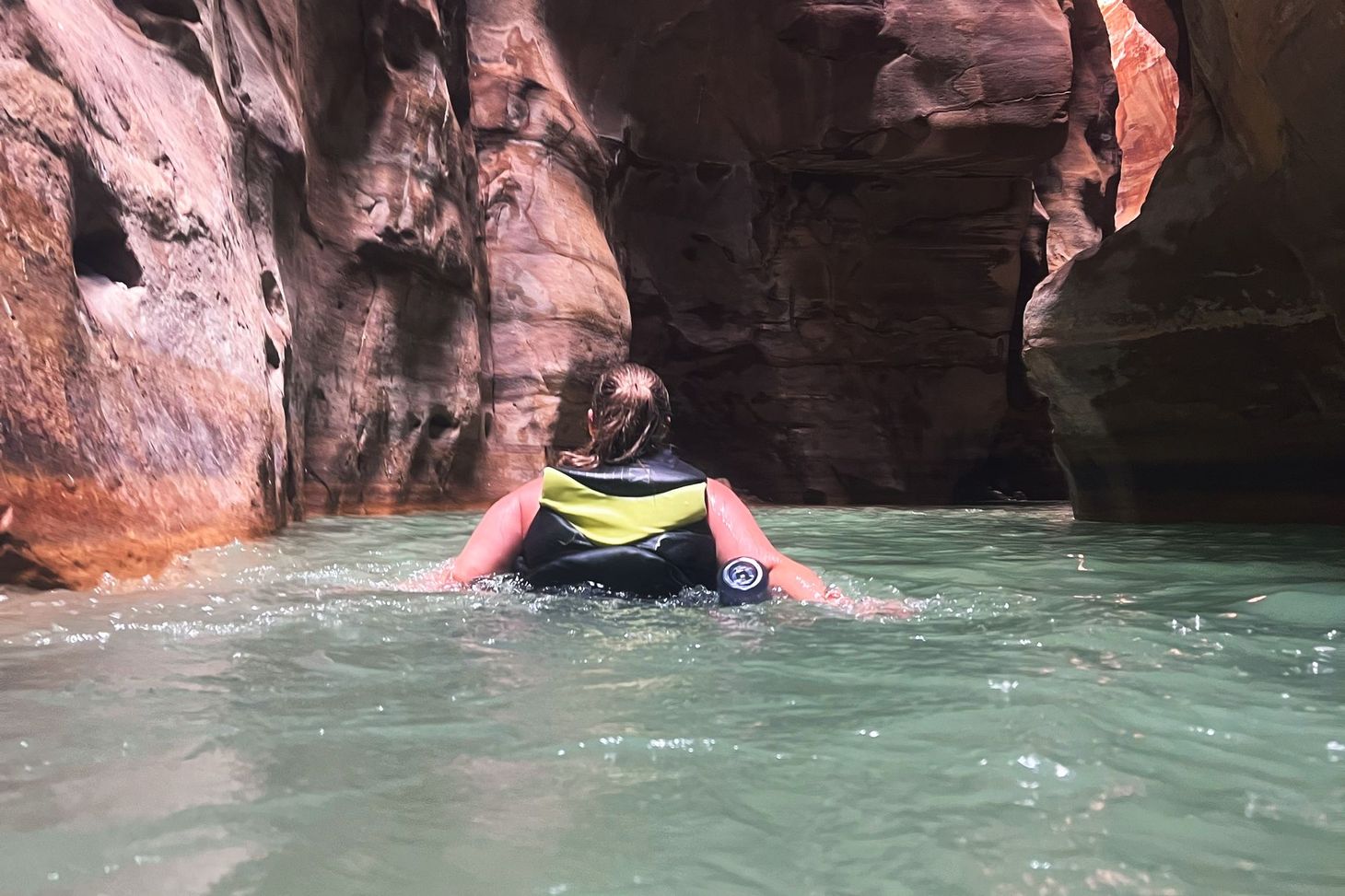 A Date in Every Country: A Series
Date #4 - Part 3
Location: Amman, Jordan & Wadi Mujib
Nationality: American
Activity: mini road trip
Time: 2 days
Will see again? If he can manage it….
Connected via: met organically
Well HOT. DAMN. I think I'm living in a Nicholas Spark's film. We kissed behind a goddamn waterfall, my legs wrapped around him as the roar of the water drowned out everything but us in our little corner of the world.
SIGH.
Ok back to the beginning…or part 3 with date #4. (That's not confusing at all lol) Be sure to go back and read Part 1 and Part 2 for context. As my last post ended, he and I decided to see each other again so after I explored other parts of Jordan (which was incredible by the way! Itinerary details at the bottom of the post) I circled back to Amman. He texted me to say he wasn't able to sleep cause he was anxious to see me and if that isn't the sweetest thing I don't know what is. I arrived very early in the morning after taking a night bus and promptly crawled into bed with every intention of sleeping but that didn't happen for a while . We were only apart for a week but there was so much to share. We snuggled up as I shared pics on my phone and told him of the crazy adventures I'd had in our few days apart.
Our day was lazy as we spent time catching up and eventually headed to an adorable cafe (Books@cafe) for brunch. He's very attentive and engaged while in person but our texting is extremely minimal so we must have sat for 2+ hours talking about anything and everything. I still had not booked a departure flight as I had 2 more things I wanted to do in Jordan. I invited him to join me for a day of adventure. He said yes so we hunted down a rental car for the next day. There's just something so fun about roadtripping in a foreign country. If you haven't done it, I highly recommend it.
We rented a car and set off bright and early even stopping for McDonald's hash browns and coffee. What's a roadtrip without that?! LOL. Now the goal was to head to Wadi Mujib then the Dead Sea. Wellllll we learned the hard way that there are 2 Wadi Mujib and promptly went to the wrong one, adding several hours. I was navigating so I felt horrible but he was such a good sport and said even the driving and chatting was enjoyable. That is DEFINITELY a good quality in a traveling companion - someone who doesn't lose it when things don't go to plan. All travelers know it is not just a possibility that things go awry, it's simply inevitable at some point in your journey. The drive itself had us sharing favorite bands and telling stories from our pasts. Good company made the time pass quickly and before we knew it we made it to the right place!
Wadi Mujib is a slot canyon similar to the Narrows in Zion where you hike up though the water. It was STUNNING!! I took my phone, a water bottle, my favorite dry bag, my wallet and of course the rental car keys. They recommend water shoes but honestly I hiked in my Allbirds and shoutout to them cause they were perfect for this adventure day. They require a life jacket and there is definitely some climbing over waterfalls and obstacles so prepare to use your upper body strength. It was beyond gorgeous and seriously so much fun. The man loves the water and was living his best life jumping in the pocket pools like a sexy mer-man. We hiked in a few miles to the end point which was a dual waterfall. There were several other people there when we arrived but we were happy to just relax and enjoy this otherworldly scene. Eventually we had it all to ourselves and ladies…..it was magical.
Kissing under a waterfall is something to be added to any and all bucket lists.
SERIOUSLY. JUST DO IT. Skin to skin, with the water rushing over you and the roar of the water takes you to another place entirely. It might be cruel to tell you readers that I took my favorite photo of us behind that waterfall. Not gonna share it (I know I know!), it's just for him and I but I wanted to freeze that moment in time. (I just kept thinking how is this my life!?)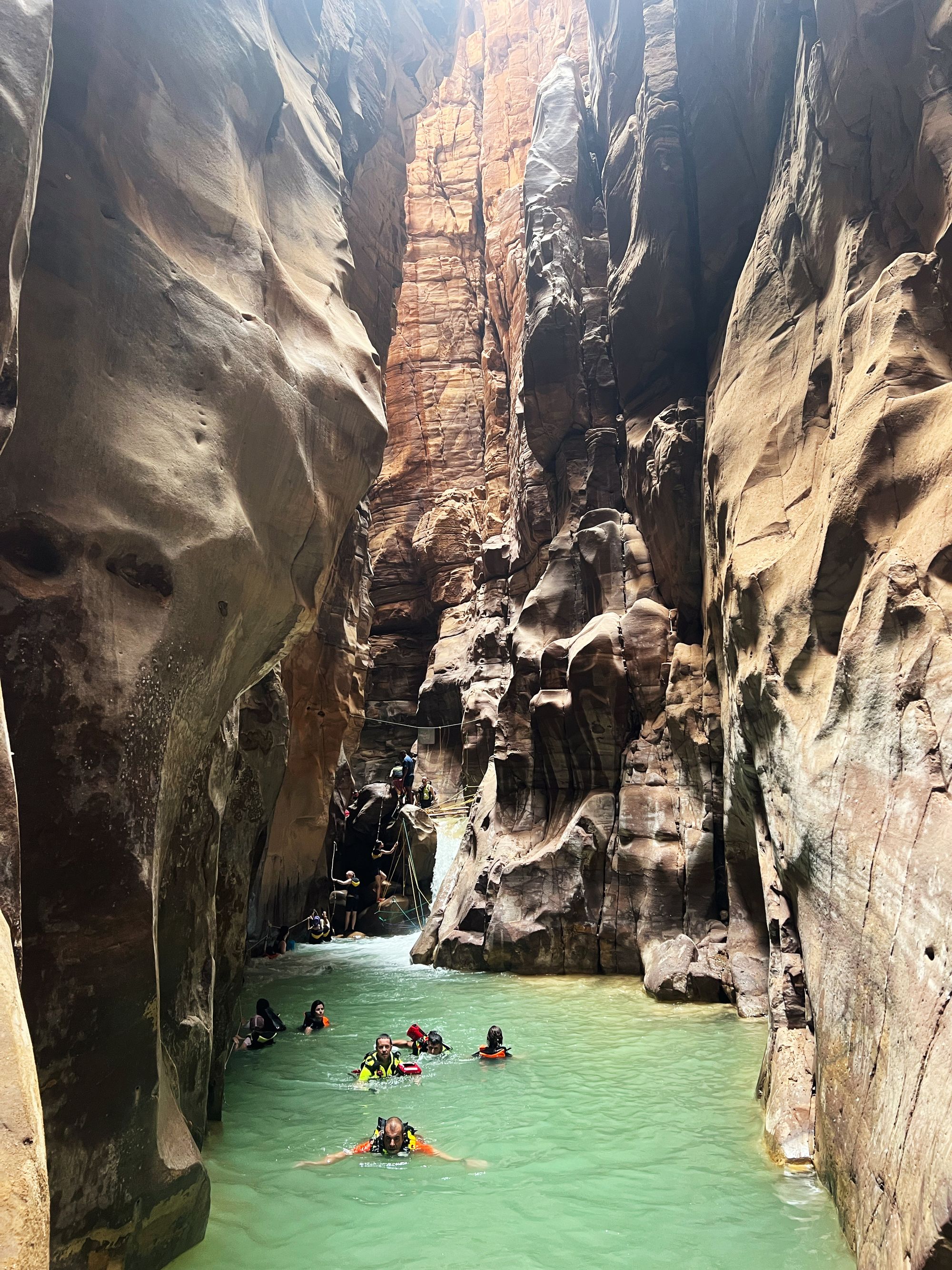 Now we have been in and out of the water for hours now and feeling lots of tickles on our legs but assumed there were bubbles from the rushing current. NOPE. They were fish!! Cue us jumping out of the water and squealing as we finally set eyes on these little buggers. We would be sitting under the falls reveling in the wonderfulness of the day and the beauty around us then BAM!! - a million fish would start nibbling on you. I know people pay for this stuff in other countries but it was not exactly romantic. Damn fish cockblocked me HAHA! That being said, Wadi Mujib (the one by the Dead Sea!) was easily one of my favorite things I did while in Jordan.
From there we drove up the length of the Dead Sea looking for a spot to pop in for a quick float. I had been told that I wouldn't need much time there but that it was a unique experience which I'm all about. We were starving after our hike so stopped somewhere for a quick bite and beer and asked our server where to find free access to the sea instead of at the fancy resorts. Always ask your servers, they give the best advice and many a time have saved me extra hassles and cost. We found a spot and I popped in for a float while he skipped rocks. The water is crazy and I couldn't stop giggling as you float so high up out of the water. The salt on your skin isn't the nicest feeling afterwards so we headed home anxious to clean up before our dinner reservation at his favorite restaurant.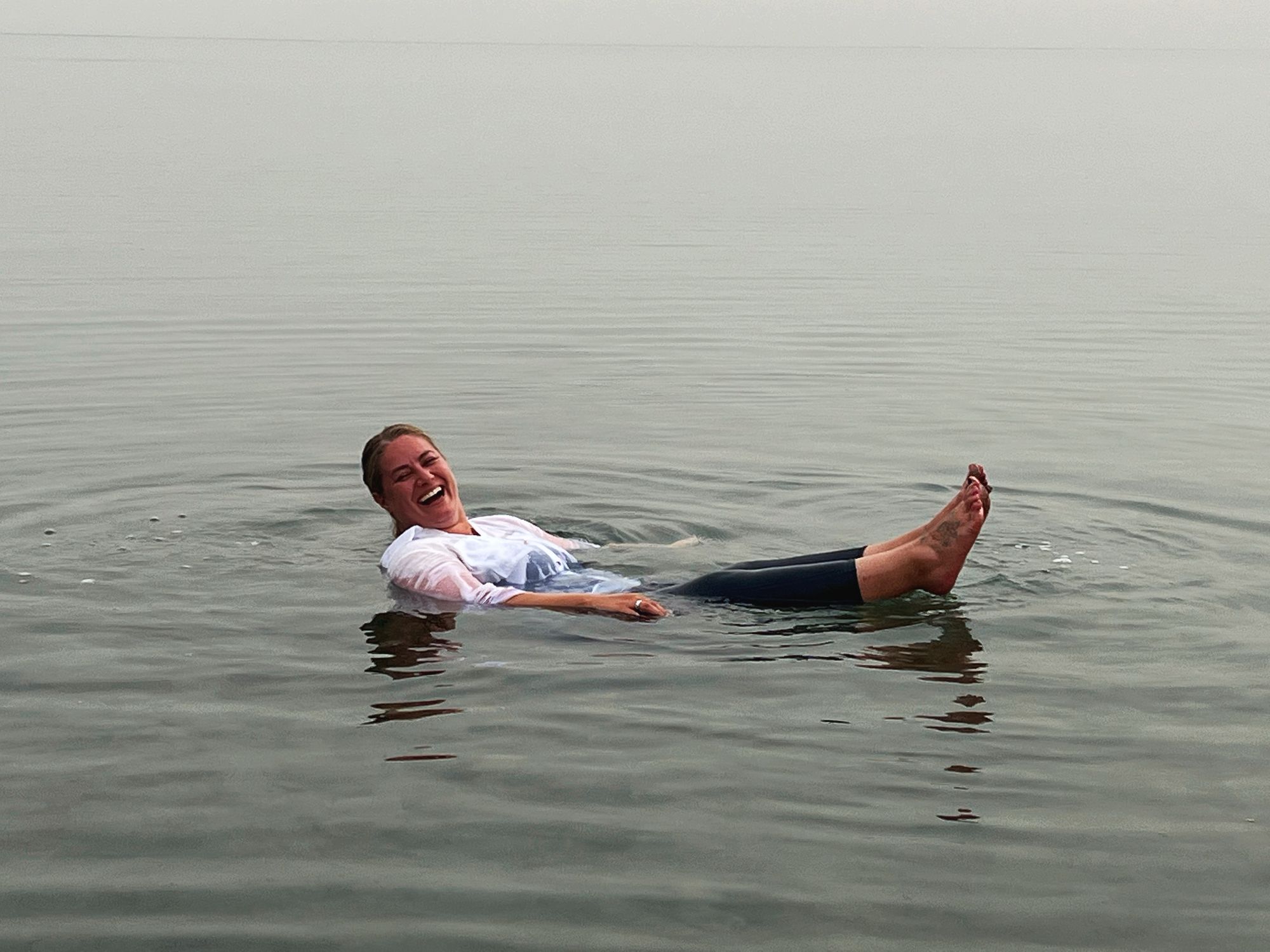 Arrived back in Amman with an hour to clean up before dinner only to be locked out of the apartment! We couldn't be mad as the day had been so wonderful so we sat on the stairs and laughed at our bad luck as we figured out a plan. I doubt anything could have ruined the day. We managed to sort that and were left with 15 minutes of frantic scrambling to get to dinner. We stumbled out of half stiff, salt saturated clothes, took record breaking showers to squelch our skin burning from the salt and attempted to make ourselves somewhat fancy before we rushed out to dinner. The restaurant was Sufra and I would definitely recommend it but be sure to make a reservation. We sat outside on a garden patio sprinkled with lanterns and palm trees with couples seated in every corner celebrating anniversaries and special occasions. The ambience was on point and he ordered us the traditional dish of Jordan to share - Lamb Mansaf. So delicious. We grabbed drinks after dinner before heading back to his as we were exhausted from the day. I booked a flight that night for the following day. Did I pick a location randomly? Yup. One of the joys of long term travel and spontaneity.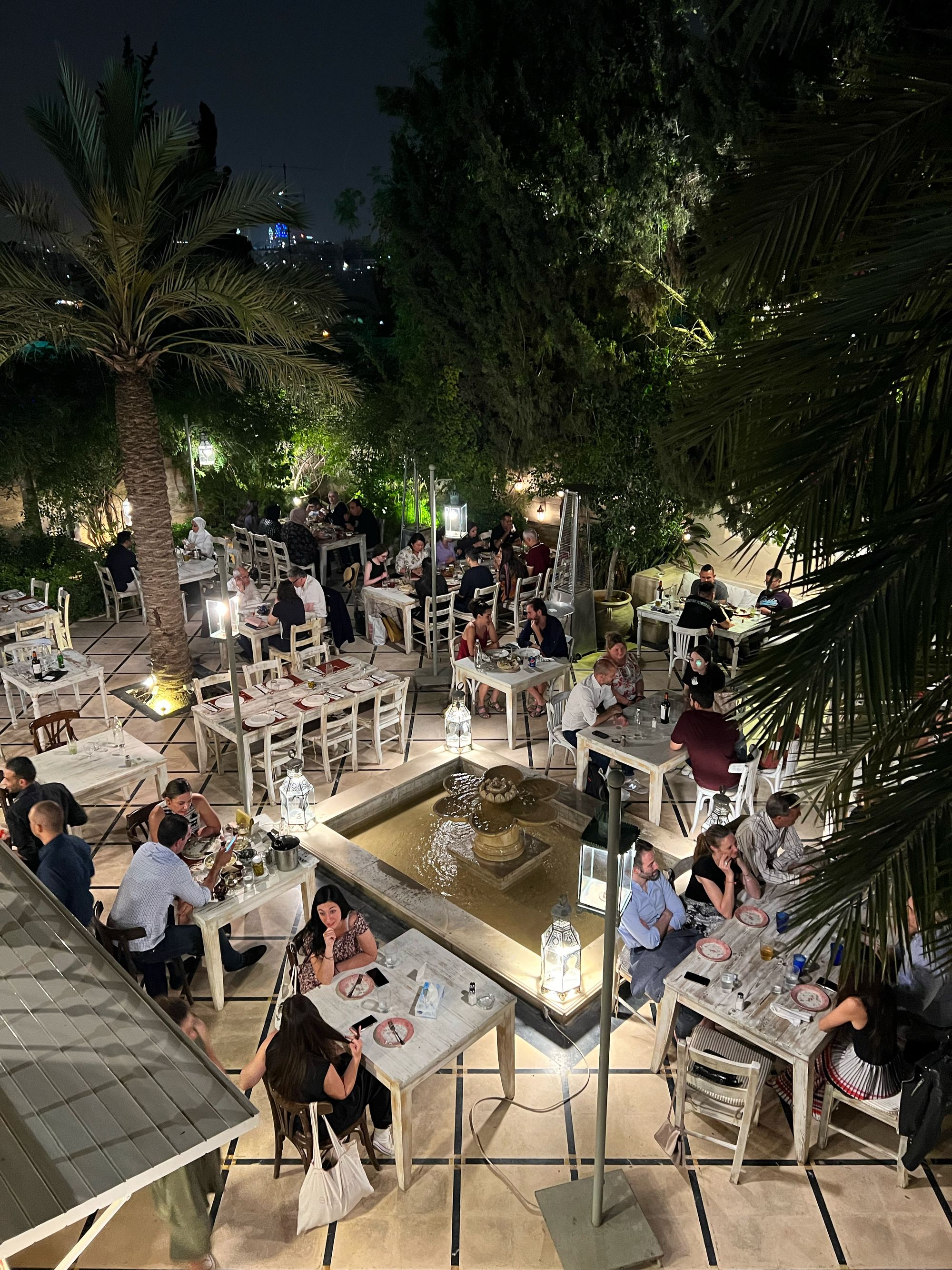 Our goodbye was bittersweet and there's talk of him coming to meet me in the next month but I know that often these things don't actually come to fruition. I regret nothing and savored these days together. I'm proud of myself for being open to such an experience, to connecting with someone on a deeper level all the while knowing that I was there temporarily. In the past I would not have let myself open up if I knew I was leaving. Time passes quickly and these last few years have taught me to be present in the moment, the future we hope to have is never guaranteed. These 12 days in Jordan had me meeting incredible people and experiencing some pretty epic things. This time taught me lots about myself and I am grateful to have shared such a deep connection with someone. Life is short and I'm aiming to live big.
Thanks again for reading!
Teaser: That ticket I booked? It was to Cyprus which wasn't even on my list but why not?! Stay tuned for my attempts at island dating.
Loni James Newsletter
Join the newsletter to receive the latest updates in your inbox.